HOME / HOW TO GET THERE
How to Get There - Transports
Towns and resorts of the region are well served by the A10 motorway which crosses the area from North to South, parallel to the coast.
Most towns and resorts are only a few kilometres away from the entries/exits of the A10 motorway, exits n°33, n°34, n°35, n°36, n°37, n°38.
From the A10, the French and European network of motorways makes the big European cities easily and safely accessible.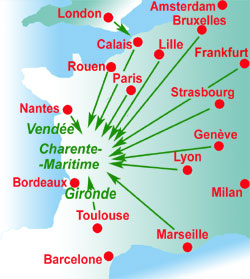 Distances from Royan within 1000 km

Amsterdam

1010

Bordeaux

120
Calais
800
Francfort
1080
Genève
710
Lille
730
Londres
930
Lyon
560
Marseille
770
Nantes
210
Paris
510
Rouen
540
Toulouse
360
Strasbourg
990
By train
TGV from Paris-Montparnasse to La Rochelle in less than 3 hours.
TGV from Paris-Montparnasse to Angoulême
in just over 2 hours and then Regional Express trains to Cognac, Saintes and Royan.
By plane
La Rochelle airport
La Rochelle airport web site
phone (33) 5 46 42 30 26
Ryanair - London Stansted - LaRochelle
web site
Bordeaux airport
(130 km away from Royan, about 1h30 driving, A10 motorway and D730 from Mirambeau to Royan)
Bordeaux airport web site
Passengers informations:
tel. 33 (0)5 56 34 50 50
Your successful visit in any season
The region which extends from the South of the Vendee to the estuary of the Gironde, occupies a unique position on the Atlantic coast of continental Europe, between the 45th and 46th parallels. This situation ensures a mild and sunny climate. The period of sunshine (2600 hours a year) is comparable to that of the Côte d'azur.
The peak of the tourist season is in July and August but due to a special climate during the rest of the year, it is particularly good for relaxing visits of discovery and exploration.
Who are we ?
An editorial team and correspondents well-established in the region and eager to share our discoveries, our experiences. Our team living in the area will give you advice on the best places to stay, La Rochelle, Royan, Saint-Palais-sur-Mer, Saint-Georges-de-Didonne, La Palmyre, Vaux-sur-Mer and the islands, Oleron, Ré, they even let you into a few secrets like where to buy your pineau and much , much, more. Information in English and French.